An effective SEO tool to help you take the top of Google
Are you a content person or learning about Marketing? Do you have a website but don't know how to optimize for search engines? The following article will summarize 8 keyword analysis tools to support you in your journey to conquer SEO and improve search rankings on Google, stay tuned!
1. Ahrefs
Ahrefs is one of the best SEO tools available today for keyword research, competitor analysis, rank tracking and site testing, and link building.
One of the outstanding features of Ahrefs is that it helps you to easily track and analyze backlinks. You can see how many backlinks your website has and from which websites. At the same time, Ahrefs also helps you check for new backlinks, lost backlinks and broken backlinks that need to be removed.
In addition, Ahrefs also statistics the types of Anchor text assigning links pointing to the page from which to plan to deploy backlinks with more suitable and diverse Anchor texts. Besides, you can expand the source of links for the website through the research and analysis of backlinks of rival websites.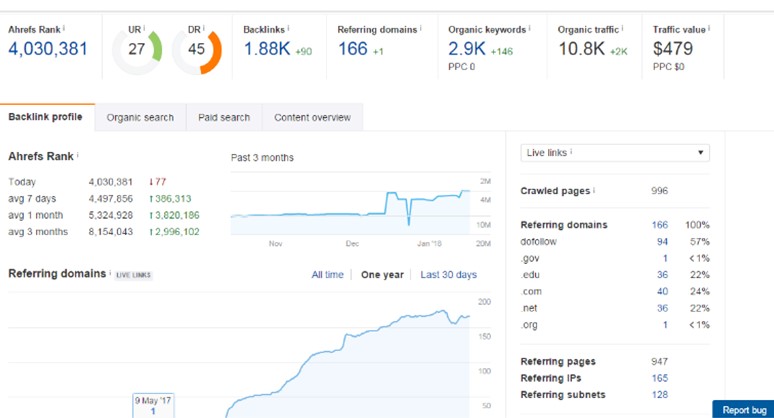 Ahrefs is an SEO support tool that is quite popular because of its outstanding features. However, with this tool, you can only experience it for free for 7 days when you sign up for a new account and are limited to a few features. After that, you will have to pay a fee when using it with the price of more than 2 million VND / 1 month for the Lite package.
2. Google Trend
Google Trend is a free tool that is quite familiar to SEO people, Content to capture search trends, search frequency of keywords, topics, ... in a specific period of time.
This tool displays a graph over time to help you assess the interest of a keyword is high and at what point is it low. If you're looking to find topics for your articles, you can use Google Trends to learn trends and discover what's currently popular. Also with this tool you can identify search trends in a specific geographical area.
3. SEMRush
SEMRush is also a pretty well-known tool in the SEO community with its outstanding feature of keyword analysis and competitor analysis. You can track which of your keywords have reached the top and check keyword rankings.
This tool will give you a ranking list from which you can research and build a smart keyword selection strategy. SEMRush has a huge treasure of nearly 17 billion diverse keywords and is constantly being updated every day.
This is a pretty useful tool to help you evaluate the metrics on your website along with keyword analysis and Google Ads optimization. However, this tool will cost money when used with a price of more than 2 million VND/month for the Plan package.
4. SEOQuake
In addition to keyword research and backlink analysis, creating search engine friendly content is also quite important. This helps search engines like Google, Bing understand what topics your website is writing about and help your articles easily rank up.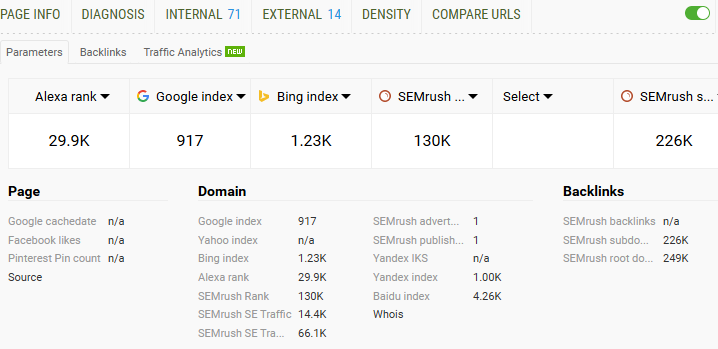 SEOQuake is a free tool that supports checking on-page SEO factors on your website for compliance with search engine requirements. Another plus for this tool is that you can add it to Chrome, Firefox extensions. ,... for ease of use.
Besides the outstanding feature of On-page SEO Audit, SEOQuake also helps you analyze keyword density, compare domains and URLs,...
5. Google Search Console
This is a completely free tool to help monitor, maintain and fix both Onpage and Offpage issues. A tool that everyone who is learning about SEO and SEOer needs to know. Through Google Search Console tools and reports, you can check indexing status, track website traffic, click-through rate, create sitemaps, and more. better performance in Google search results.
Besides, this tool also helps you to deal with access issues from mobile devices and sends navigation notifications to help you fix errors when your website has problems. You can also optimize links and remove bad backlinks from your website.
6. SEO Site Checkup
Another free tool to help you optimize On-page effectively is SEO Site Checkup. This tool helps you to quickly check common SEO issues for your website such as HTML standards, keyword usage,... and the performance and speed of your site.
SEO Site Checkup will display a summary of the good and bad points about your website's SEO capabilities. In the non-standard SEO evaluation sections, there will be adjustment instructions to help you optimize and improve your website's ranking position.
In addition, the tool helps you with security testing and mobile usability assessment. You can check if your site is mobile-friendly by providing a snapshot of how it looks on mobile devices and searching for media queries.
7. Moz
The competitor analysis step is an indispensable step when building an SEO strategy. Moz tool helps you better understand competitor websites and measure the metrics and strength of your website.
Moz helps you compare the traffic between your website and your competitors' websites. You can see which pages or search terms your competitors are using effectively. Not to mention with the Moz tool, you also know the level of Spam of the website to improve before being penalized by Google. You can combine the Moz tool with the above-mentioned tools like Ahrefs to optimize search engines more effectively and occupy the top on Google.
With the Moz tool, you can use it for free for 30 days and then Moz will have packages with different fees.
8. Small Seo Tool
Once you've done keyword research, backlink analysis, etc., you need a quality content that provides useful information to users. With the Small Seo Tool, you can check the duplicate content, the level of uniqueness of the article.
Small Seo Tool also helps you check grammar, punctuation, ... and track whether your article is SEO-standard. From there you can improve the errors and create unique and quality content.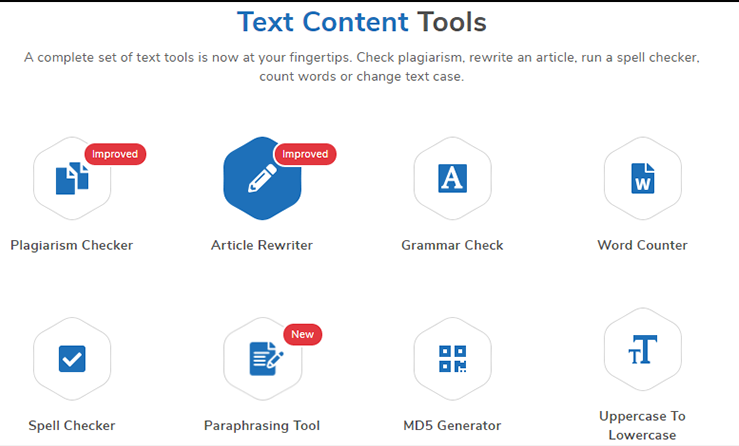 9. KWFinder
KWFinder is a keyword research tool that helps you find long tail keywords with low competition. In addition, you can use KWFinder for search engine results page (SERP) analysis, backlink analysis, and rank tracking. You will easily determine your rankings through the reported metrics.
The KWFinder tool with an intuitive interface makes it easy to use and enter specific keywords. In particular, the advantage of this tool is that you can enter accented data and suggest accented keywords for you. KWFinder's usage fee will be calculated based on the number of keyword searches in 1 day and will reset the search after 24 hours. You can pay monthly or yearly and there are 3 packages to choose from depending on your needs.
10. Ubersuggest
Similar to KWFinder, Ubersuggest is a tool whose main function is to support keyword search and analysis. With this tool, you will have more suggestions for useful keywords for better search engine optimization. And Ubersuggest is a completely free SEO tool.
You can find short to long tail phrases or terms that are relevant to your website through keyword suggestions from Ubersuggest. At the same time, in this tool you can see the number of keyword searches, the level of competition, seasonal trends, ...
11. Google Keyword Planner
This is a useful tool from Google that helps you identify popular keywords on the search engine. Thereby helping you to create an effective SEO strategy and support Google Ads advertising campaigns.
One of the advantages of this tool is the ability to optimize keywords for PPC (Pay Per Click) advertising campaigns and predict the total cost of a particular advertising campaign. You can easily access Google Keyword Planner and use this tool for free.
12. Keywordtool.io
Another tool to help you research and check keywords effectively. With Keywordtool.oi you can search for potential long-tail keywords and better SEO support, making it easier to get to the top on Google.
This tool integrates with Google, Youtube,... and many other search engines to assist you in developing content on different platforms. Keyword Tool has two free and paid versions.
With the free version, you can analyze keywords but will be limited in number and cannot see the level of competition and traffic. If you want to see the full and unlimited viewing, you can refer to and use the paid version with different packages.
13. Screaming Frog SEO Spider
In order to improve search rankings on Google in addition to keyword research, backlinks analysis, etc., optimizing the website to make it search engine friendly is also quite important. Screaming Frog SEO Spider is a tool that allows you to analyze and evaluate your website from an onsite SEO perspective quickly saving you a lot of time.
You can find broken website and fix it, check for duplicate content, analyze page title and Meta tag data, etc. all in one tool. This tool will also have a free version but can only scan 500 URLs and has limited features. Depending on your needs, you can upgrade to the paid version to experience unlimited features of Screaming Frog SEO Spider.
14. Fat Rank
A pretty useful SEO tool in the form of an extension but little-known is Fat Rank. If you're looking for a keyword rank tracking tool, don't miss the convenient Fat Rank utility. You can easily add keywords to search to see the rankings for each keyword you have optimized on each page.
Convenient and easy-to-use interface, Fat Rank gives top 100 keyword ranking results. If you are not in the top 100 results, you can promptly adjust and optimize better.
15. SEO Powersuite
One more software that provides a full range of tools and powerful features to help you improve your search rankings and occupy the top of Google is SEO Powersuite. With a full range of tools to help you have a comprehensive view and in-depth analysis for you to build an effective SEO strategy.
From finding target keywords to checking rankings, fixing website problems, optimizing landing pages, building Backlinks,... all in SEO Powersuite. The tool also has a free plan, a professional plan (paid), and a business plan.
16. Google Analytics
Google Analytics is probably a familiar name for SEO people. This is also a free tool from Google that helps you understand user behavior and website visits statistics of customers. Understanding your users and website from there helps you build a more effective optimization strategy combined with an advertising campaign,...
How Google Analytics works in 4 steps from data collection to data conversion, choosing the desired metric type and finally setting up the report. You will know the number of website visitors at the time of testing through real-time statistics. In addition, this is also a tool that reflects quite accurately the habits of users on the website.
17. Yoast SEO
If you often use WordPress, you may know the Yoast SEO tool developed by the Yoast team from 2010 to the present. This is an effective tool to help you optimize your website for SEO standards by keyword optimization features, Onpage SEO analysis, sitemap information check, duplicate content check,...
Yoast SEO tool is completely free and easy to install, user-friendly interface. You can upgrade to Yoast SEO Premium depending on the purpose of use, but the free version also has all the basic and necessary features.
18. Serpstat
Next is an all-in-one tool that helps improve SEO effectively is Serpstat. The features of this tool are divided into 6 main areas: keyword research, Website analysis, Backlink analysis, rank tracking, Website evaluation.
With keyword research, Serpstat tool helps you get keyword list from any website including competitor websites. At the same time, you can create rich content for your website with keyword variations and track keyword search trends, and understand the keywords that are currently popular.
Serpstat's lowest package is the Lite package priced at VND 1,571,000/month, currently being reduced to VND 1,252,000/month.
19. Copyscape
Finally, the Copyscape tool helps you check for duplicate content and detect if the content you are about to post is already on any website. That helps ensure your article is unique and highly valuable to Google.
This tool allows you to use it for free, but it is limited to searching up to 10 results based on each checked domain. And the Free version (free) you can only check the published content on the website based on the publishing link. Depending on the purpose of use, you can upgrade to the paid version to experience the full features of Copyscape.
Web QR