Reasons why your business needs to invest in SEO
In the digital age, most customers rely on search engines to solve their needs. Meanwhile, website SEO is the technique of putting information about your products and services into search engines.
In terms of channels, website SEO is an indispensable component of SEM. And SEM is one of the main channels in Online Marketing. Therefore, SEO is indispensable for every business that wants to increase revenue and promote growth.
1. Up to 93% of customers find products/services on search engines
According to the Search Engine Journal, nearly 93% of customers use search engines like Google to learn about the products/services they plan to buy.
Therefore, if you do not operate and develop in the online environment, your company is really lagging behind. In particular, in the context of the prolonged Covid-19 epidemic, many companies had to convert their models from offline to online.
SEO makes your website more friendly to Google and users, boosting your website's ranking to the Top 1 and reaching customers more easily.
2. Investing in SEO is the most cost-effective marketing channel
From Marketing Dive research, nearly 82% of marketers rate SEO as increasingly effective in driving sales. It can be said that this marketing channel is increasingly focused and developed in every business.
In addition, businesses invest more in SEO because this is a channel to promote products/services with the least cost and long-term value. SEO allows you to do online marketing that is tailored to the needs and costs of your business, and the results are easy to measure.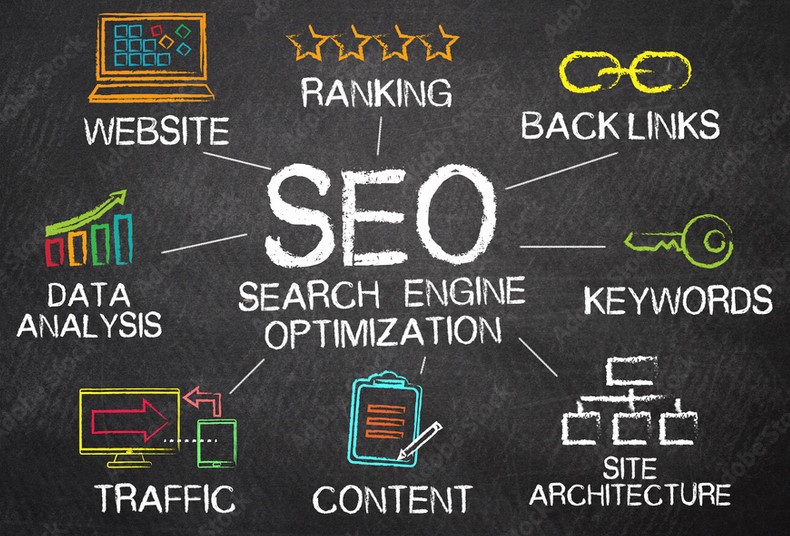 3. High user traffic and conversion rate
With the era of digital technology 4.0, traditional advertising channels are no longer as effective as before and the cost is quite large. Meanwhile, you are also quite difficult to calculate the conversion rate of each channel, from where.
And when investing in SEO, you will have detailed statistics of the conversion rate from which source and how much, thereby adjusting your marketing strategy. From keyword research, SEO can determine the size of the target market and also the trends, intentions, and buying behavior of customers.
4. Website SEO is a competitive standard in the market
If you do not invest in SEO, your brand will soon be "crushed" by competitors to take away all of your target customers. And if your competitors have not done good SEO, you can surpass them even though your business brand is not known to many people.
5. SEO powers mobile marketing
SEO helps business websites display well on mobile devices, which is extremely beneficial for the development of businesses. Because, users mainly search on phones rather than on PCs, laptops, .. increased by more than 70%.
6. Promote online business development
If your business is looking to develop an online business, SEO is a channel not to be missed. SEO helps promote online business development by the trend of users increasingly prefer to stay at home to order goods.
Because it is convenient, it saves customers' time and travel costs, especially when the covid-19 epidemic has not shown any signs of ending like now. Besides, businesses will also save more selling costs than traditional offline sales.
7. Build customer trust and confidence
According to the trend of user psychology, when they search for something, they will usually only be interested in the top 3 results. And they think the information on these pages is the most reliable because they have rated by Google.
Therefore, for small and medium businesses, customers do not know much about the brand, SEO is the fastest way to help businesses reach customers. Through this, customers will feel more confident and have more faith in the valuable products/services provided by the business.
8. Better user experience on the website
Google's search engine is working hard to bring valuable, accurate information to each user's query. Purpose helps users find information with fewer clicks, faster and easier.
Standard SEO Website will always optimize the user experience and search optimization of google bots so that they can understand and return the most accurate results.
9. SEO is always changing and so are opportunities
Google is constantly updating new algorithms to bring more benefits to users and also to get rid of pages that have no value. Because of that, SEO is always changing to match user queries and also to increase the chances of reaching organic customers.
10. Because competitors are investing in SEO
Currently, most businesses doing business on online channels invest in SEO websites. Even if you are doing SEO without constantly optimizing, your competitors will "overtake" you and take that position.
Your business needs an SEO strategy now to successfully market and reach over 3 billion people on the internet.
11. High efficiency and low cost
If someone says that investing in SEO does not cost money is not true, doing SEO also costs money, but compared to other online marketing channels, SEO costs are quite cheap.
In the short term, you probably won't be able to see the effect of SEO clearly. However, after 6 months to 1 year, you will see customers organically visit the page gradually and will have orders and consultations. In the long term, SEO helps the brand to be known by more and more customers and maintain revenue.
12. SEO affects the buying cycle
To make a purchase decision, users will often learn and consider from many different sources of information. Therefore, SEO will help you reach natural customers and convey sales messages as well as create credibility for your business.
SEO has a positive effect on the buying cycle when done properly. Brands show up at the right time and place when users need to connect brand and values.
Besides, local SEO helps your business increase visibility and help potential customers quickly find information about your business.
Investing in SEO is important and also a smart online business strategy. Now most businesses invest in promoting SEO, so if your business is still bare, you are falling behind your competitors.
Web QR