Steps to build an effective website
Many bloggers and business owners want to start a website but are not sure where to start.
With that in mind, this article will demonstrate the process of creating a website in 8 simple steps. We'll start with a clear plan, diving into choosing hosting, domain names, content management, and website design. Then we'll briefly discuss how to create great content and some recommendations for useful website plugins you can use. Finally wrap up with some tips to attract visitors to your site.
1. Determine the purpose of the website
When a small business first sets up a website, it is possible that you will make a mistake about the role the website plays in the business. From there, you either have to upgrade your hosting plan within the first few months of setting up your website, or pay for a hosting service that you don't really need for a long time.
Therefore, you must find out the purpose of the website before choosing a hosting package.
A blog site and an online store will have different requirements and obvious differences that need to be considered. Eg:
Some online stores will never need more than ten pages of product information, while others will need catalogs of thousands of products.
Many retail websites will have to implement an e-commerce conversion, but that is not a requirement because many websites are created solely for the purpose of providing promotional information for the purpose of attracting customers. goods to their stores.
For blogs, you need to keep in mind that a blog site that publishes a large amount of video/images will require more server resources than a site that publishes a few articles.
Hosting providers sell packages with prices based on server resources – taking into account factors such as capacity and bandwidth requirements.
So, defining the functionality of your website in your business is an important step in creating a new website. In addition, the purpose of the website is also very important because it affects decisions for the next steps.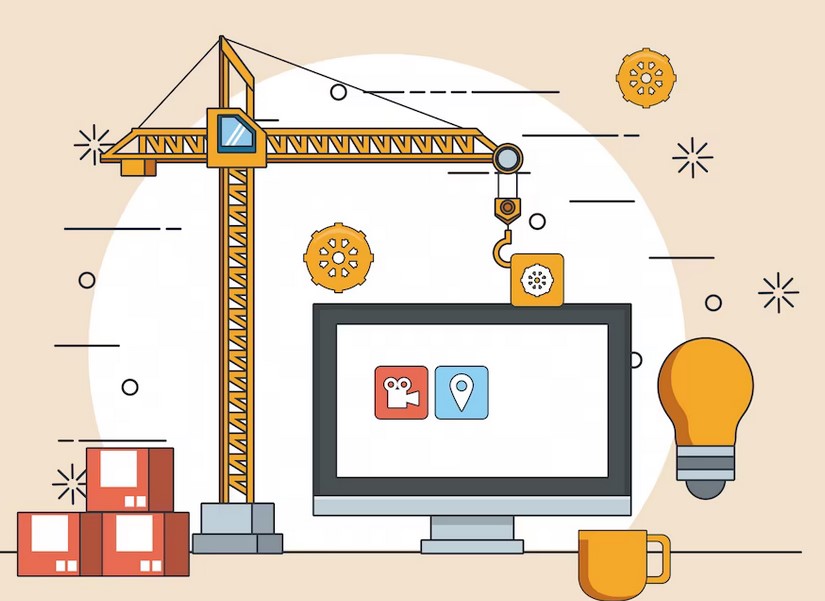 2. Choose the right hosting package
When looking for a hosting provider, you will find a vibrant, competitive market in which businesses compete with each other to get you selected. At that time, you need to pay attention to factors such as technology application, monthly cost and customer service to choose the right supplier.
Here is a list of factors you should consider when choosing a hosting package:
Service providers should have a wide selection of service plans to meet different needs.
No installation fee.
Service providers should provide free website builder tools and control panel for website management.
Should fully support popular CMS like WordPress.
It is recommended to use a high-performance server to support hosting packages to ensure the optimal reliability of the website.
Customer service should include email and phone support, ideally 24/7.
At the same time, you should choose hosting services that provide additional domain email addresses, support for multiple domains or websites, dedicated servers, disaster recovery, advanced security options and features. Other enhancements included in the service pack.
In some cases, business owners choose a higher hosting package because they need access to a dedicated server.
The least expensive hosting service is offered via a shared server, where one computer runs multiple websites. With shared hosting, access to server resources will be limited and only certain applications can be used. Besides, website performance can also be affected when the need to access other websites using the same shared hosting service increases.
An affordable option that helps businesses avoid the limitations of shared hosting services is VPS hosting.
VPS is an acronym for virtual private server. A dedicated virtual machine ensures access to all resources on the service user's server, delivering high performance and reliability.
3. Domain name registration
An important part of any website is its domain name. Although a domain name is associated with a website, that association is not permanent. Each website has an IP address, which is the official identifier of that website on the network. When you set up a website, the IP address of the web will be associated with the domain name you purchase. If in the future you buy another domain name, you can easily redirect your website to the new domain name.
When you buy a domain name, the seller (registrant) will usually be a company that provides web hosting services. For a small fee, you can win your very own domain name that fits your business perfectly. You can choose from popular domain extensions like .com or choose a newer domain extension like .club or .shop.
Domain names play an extremely important role in the online identity of website owners. You need to consider carefully to choose the domain name that best represents your business.
You can find and use a free domain name, but it's not a good idea. Website development companies like WordPress and Squarespace will let you use a subdomain, like your website name.wordpress.com for example. However, customers probably won't value a business using such a domain name. Therefore you need to invest in your own domain name.
4. Select CMS
We do not recommend that you manage website content manually such as using HTML, CSS, and scripts when you can use CMS (content management system) like WordPress for example.
If you've decided to build and manage a website that doesn't use a CMS, you'll have to take advantage of a website builder tool. There are tons of great options including professionally designed templates, so even without any experience you can create a beautiful website that works on any device.
But why should you take on the job of a content management system when there are already many CMS platforms on the market to help you with most of these tasks?
Millions of websites around the world, some of which are owned by large corporations, already use hosting services with CMS like WordPress, Drupal, or Joomla.
Hosting services on those platforms make things a lot easier. It offers the right flexibility and performance to meet the needs of small business websites, e-commerce sites, blogs, or entire corporate websites.
When you choose a CMS-based hosting plan, you can expect performance boost from a server that has been optimized for the platform. That means high reliability and fast page load times, plus security and monitoring built into most CMS features keep your data safe.
5. Website Design
Every website owner wants their website to look eye-catching and attract customers, making them want to come back. But when someone with no experience designing your website can not attract customers, sometimes even backfire makes customers not want to come back again.
It is important to keep the design simple. Your website should be easy to read and use. A live design can dramatically increase website usability.
a. Select Theme
Whether you are using a website builder, CMS, or designing your own, your website still needs a theme. Theme determines the overall layout of the website, including banner image size and position, dominant color, position and appearance of text, and other design elements.
If you use a CMS, you'll start with the most basic default theme. To differentiate your website, you will need to find a new theme that will make the impact you want when visitors visit your site.
You will have a lot of theme options – some are free, some are paid. WordPress offers many free and customizable themes. So even if you choose a popular theme. Change a few small details, you can make your own mark.
b. Build attractive layouts
While the theme will provide default text placement, allow you to adjust the dominant color, direct you to easy-to-read fonts, and more, it is your responsibility to keep your design within a few boundaries. basic usability.
Don't create a website that focuses on appearance instead of readability. Choose colors that are pleasant and make an impression on the viewer. When designing textual content, use eye-friendly fonts and plenty of white space. Split content into easy-to-read paragraphs and remove distracting visual elements.
You should choose graphics with the audience in mind as they can help establish a connection between you and your guests.
You can find cheap and even free stock photos online, on sites like Unsplash. But keep in mind that large images can harm website performance. As such, all images you choose should be optimized so as not to affect page load times.
c. Create a mobile-friendly design
You always have to consider the users who will access your website using mobile devices such as phones and tablets. To make sure your website is mobile-friendly, you need to strive to use responsive design. This means that there is only one version of the content, but it will appear differently depending on the device used to access it.
Many themes offer responsive design as a built-in feature, but it is also possible to customize the template in a way that will make the website look bad or not work properly on mobile devices.
When designing, consider which elements of the content will bring the most value to users and ensure those elements can be found quickly on mobile devices. Consider mobile users when you choose fonts and implement functional elements – buttons and menus that are easy to navigate with the mouse pointer can be difficult to manipulate with your fingers on a mobile screen.
Your business does not have enough human resources and time to design a website? Let MangoAds help you! We have 10 years of experience in multi-industry web development with 100 partners. Call us at 028 6680 5450 or register in the form for advice on creating a website.
6. Add content to the website
Whether you choose a CMS or already have experience with HTML and CSS coding, at some point you will move from designing a website to adding content. You will have to make important decisions, some of which may even take you back to the design stage. Complementing your content is mostly about using the right structure.
If you're running a blog, should you sort your posts by date or by topic?
With an online store, what is the best way to organize product information pages?
How can users access FAQ or Privacy Policy pages but only if they deem it necessary?
Answering questions like the above is essential to determining the best structure for your website's content.
In addition to structure, you also have to consider content. Website will represent your business. In some cases, from the user's perspective, your website is your business. You must ensure that your content takes full advantage of opportunities to convey your message with your consistent brand voice.
We'll get into that topic when we discuss the final step, but for now, remember that it's not the font or the color that dominates, but the content itself that will play a key role in attracting guests. Make sure the content is an appropriate representation of your brand.
7. Install Useful Plugins
There are many backend applications for content management systems, called plugins. These plugins can extend the functionality and functionality of your website significantly.
Most of these plugins are tied to a CMS or another platform, but you can find a plugin for every category for almost any CMS you choose. You can also use the same support applications for 'homegrown' websites.
You can choose to add a plugin that offers enhanced security or allows you to monitor website performance. There's a full range of plugins for everyone to choose from, from plugins that help you improve your website's SEO, implement contact forms, manage backups, or fight spam.
During the installation and design phase, consider the plugins you'll need, and download and install them before you go live.
8. Attract customers
After your website goes live, you need to conduct some activities to attract visitors. The list below summarizes the common methods a website owner can use to attract more visitors.
Take advantage of social networks. Social media has become an important part of people's lives and your business needs to be present in that world. So you need to create a direct link to Twitter and Facebook and these links must be placed in a conspicuous place on your website.
Likewise, social media accounts and posts should link to the website. Using social media as a platform to reach your audience is a proven tactic and should be included in your website strategy.
Think about your target audience when you choose your social media platform. If you're a makeup artist, LinkedIn isn't your top pick, you'll want to have a presence on Instagram and Facebook instead.
Focus on SEO. Make sure your content contains the keywords your target customers use to find your website. Don't overdo it, because keyword-saturated content will cause your website to rank lower in search results.
Maintain good backlinks. Backlinks are links between websites. If a website links to you, you have a backlink. If your website has a link that links to another website, it is a backlink for the linked website.
Placing backlinks in good positions (i.e. links that appear on high authority websites) not only get the visitors you want, but they also play an important role in how search engines rank your website. Friend.
The brand voice is clear and consistent. When visitors visit your website, they'll expect to see a clear value proposition that syncs with what they've heard about your business, whether that comes from a social media post, a good backlink from an online ad.
Ensuring a strong and consistent brand message adds to a unified user experience and strengthens your online presence across all channels.
Web QR