Web hosting price list
With 10 years in the field of Web Hosting (web hosting service), Viet SEO is a hosting provider (server) with stable infrastructure in Vietnam. We offer the right solution for both large enterprises or small business individuals. Peace of mind about your data with a mechanism to ensure data access and automatic recovery as soon as the hard drive crashed. Extremely powerful firewall to block outbound attacks, ensuring data security. The full server with SSD + SSD features, access to your website three times faster than usual.
LINUX HOSTING PRICE LIST
Hosting
Package 1
Hosting
Package 2
Hosting
Package 3
Hosting
Package 4
Disk
800 MB
1 GB
1.5 GB
2 GB
Bandwidth
15 GB
Unlimited
Unlimited
Unlimited
Sub domain
5
15
20
25
PHP
⋎
⋎
⋎
⋎
MySQL

1

2

4
5
Price
720K/
1 year
1.056K/
1 year
1.560K/
1 year
1.860K/
1 year
LINUX HOSTING PRICE LIST

Hosting

Package 5

Hosting

Package 6

Hosting

Package 7

Hosting

Package 8

Disk
3.5 GB
5 GB
7 GB
10 GB
Bandwidth
Unlimited
Unlimited
Unlimited
Unlimited
Sub domain
40
60
100
Unlimited
PHP
⋎
⋎
⋎
⋎
MySQL
8
10
15
30
Price
2.880K/

1 year

4.440K/

1 year

2.910K/

6 months*

4.110K/

6 months*
International Domain
Setup free
Maintenance free / Year
Transfer to Viet SEO
.com .net .us
Free
270.000 VND
300.000 VND

.org .info .biz
Free
270.000 VND
300.000 VND

Vietnamese domain - Level 2, 3
Setup free
Maintenance free / Year
Transfer to Viet SEO
.vn
350.000 VND
(

450.000 VND

)
550.000 VND
(

600.000 VND

)
500.000 VND

.com.vn .net.vn .biz.vn
350.000 VND
(

450.000 VND

)
450.000 VND
(

480.000 VND

)
400.000 VND

.gov.vn .org.vn .edu.vn .pro.vn
.int.vn ac.vn info.vn health.vn
Domain by geographic
200.000 VND
(

450.000 VND

)
200.000 VND
(

480.000 VND

)
180.000 VND
.name.vn
30.000 VND
30.000 VND
27.000 VND

Others
Setup free
Maintenance free / Year
Transfer to Viet SEO
.co.in .net.in .org.in
.firm.in .gen.in .ind.in
Free
240.000 VND
192.000 VND

.cc
Free
760.000 VND
608.000 VND

.ws
Free
270.000 VND
216.000 VND

.tv
Free
890.000 VND
712.000 VND

.mobi
Free
450.000 VND
360.000 VND

.eu
(Can not transfer)
Free
270.000 VND

.asia
Free
400.000 VND
320.000 VND

.me
Free
610.000 VND
488.000 VND

.tel
Free
340.000 VND
272.000 VND

.co
Free
780.000 VND
624.000 VND

.com.co .net.co .nom.co
Free
450.000 VND
360.000 VND

.in
Free
470.000 VND
376.000 VND

.co.uk .org.uk .ltd.uk
.plc.uk .me.uk
Free
360.000 VND
288.000 VND

.com.tw .idv.tw .game.tw
.ebiz.tw .club.tw
Free
800.000 VND
640.000 VND

.tw
Free
933.000 VND
746.000 VND

.name
Free
270.000 VND
216.000 VND

.jp
Free
2.340.000 VND
1.872.000 VND

.photography .technology .photos
.equipment .gallery .graphics .lighting
.directory .today .tips .company
.systems .management .center
.support .email .solutions
Free
458.000 VND
390.000 VND

.guru .land .bike .clothing
.plumbing .singles .camera
.estate .contractors .construction
.kitchen .enterprises .tattoo
.shoes .sexy .domains .academy
.computer .training .builders
Free
694.000 VND
560.000 VND
Exclude 10% VAT
What is Hosting? Explaining web hosting for beginners
Hosting (or web hosting) is an online service that helps you publish your website or web application to the Internet.
When you sign up for a hosting service, you rent a place on the server that contains all the files and data needed for your website to run.
A server is a physical computer that runs without interruption so that your website can be up and running at all times for everyone to access. Your Web Hosting provider is responsible for keeping the server up and running, resisting malicious attacks, and transferring content (text, images, files) from the server to the user's browser.
I. How does web hosting work?
When you decide to create a website, you need to find out the hosting company to give you a web hosting space on the server. Your web host will contain all your files, documents, and databases. Regardless of whether someone types the domain name in the address bar of the browser, the hosting will transfer all the necessary files from the server to that browser.
You need to choose the hosting package that best suits your needs and buy that hosting. In fact, web hosting is like renting a house, you pay on a regular basis to keep the server up and running.
To minimize risk, each Hostinger plan is covered by a 30-day money back guarantee, ensuring the service you experience is the best fit for you. Furthermore, you can start from a basic web hosting plan designed specifically for small projects. As your website grows and requires more space or server resources, you can move to a higher plan without the hassle of switching.
That's right, you don't need any programming knowledge to perform server administration. Your account already has a user interface ready for you to manage all aspects of your website. For example, you can upload HTML files and other files to the server, install a CMS like WordPress, access your database, and create backups for your site.
Although cPanel is the most used hosting interface by everyone, it can be quite confusing for those who don't have a lot of technical knowledge to get a site up and running right away. So our team decided to build another control panel, exclusive to Hostinger customers.
We proudly call it the Hostinger control panel, a beautiful control panel with a slick user interface that can easily manage all tasks in one place – even if it's your first time with web hosting. Our customers love it, as it has helped them successfully manage their hosting accounts with ease and ease.
Besides providing accommodation for your website, a hosting provider can also provide other website-related services, such as:
SSL certificates (to use the secure web protocol https:// )
Email hosting
Page builders
Developer tools
Customer care service (preferably using live chat)
Automatic website backup
One-click installation (like: install WordPress or Drupal)
II. Different types of web hosting
Most web hosting providers offer many different types of hosting to meet the different needs of many customers. The most common types of hosting are:
Shared Hosting
VPS Hosting
Cloud Hosting
WordPress Hosting
Dedicated Server Hosting
The bigger your website, the more server space you need. Let's start from the smallest hosting package, ie from shared hosting, so that when your site gets bigger, you can upgrade to a more advanced type of hosting.
Web hosts often provide many types of packages for each type of hosting. For example at Hostinger, our shared hosting packages have 3 different hosting package levels.
1. What is Shared Hosting?
Shared hosting is the most popular type of web hosting and the top choice for small businesses and blogs. When you hear the word "web hosting", they usually refer to shared hosting. With shared hosting, you share server resources with other customers of your hosting provider. Websites are placed on the same server to share resources and memory, processing power, disk space, etc.
Advantage:
Low cost
Beginner-friendly (no technical knowledge required)
Server is pre-configured
Control panel is easy to use, user-friendly
The provider is responsible for the management and operation of the server
Defect:
Less control over server configuration
A spike in traffic from other websites can slow down your site.
2. What is VPS Hosting?
VPS (Virtual Private Server) hosting is a type of web hosting that also shares a server with other users, however, the difference compared to shared hosting is that your web host provider will divide the partition on the server for you. That means a private space on a physical server set up, with your own memory and processor power just for you. In fact, VPS hosting is suitable for medium-sized businesses and rapidly growing websites.
Advantage:
Private server resources (without having to buy a server)
Massive traffic from other websites does not affect the performance of your site
Root access to the server
Easy to upgrade
Highly customizable
Defect:
More expensive than shared hosting package
Need technical knowledge and server administration knowledge.
3. What is Cloud Hosting?
Cloud hosting is currently the most reliable solution on the market, as it seems to have absolutely no downtime. With cloud hosting, your provider has a set of servers. Files and resources are distributed across servers. When one of the cloud servers is overloaded or has any problems, your traffic will automatically be routed to and processed at the other server of that cluster server.
Advantage:
Almost no downtime
Server failure does not affect your site
Resources are distributed according to need
Payment depends on usage (you pay for what you use)
More flexible than VPS, in terms of scalability
Defect:
Difficult to manage costs
No root privileges
4. WordPress Hosting
WordPress hosting is a form of shared hosting, designed specifically for WordPress website owners. Your server is configured specifically for WordPress and your site comes with pre-installed plugins such as caching plugin and security plugin. Because of the custom-made configuration, your site will load faster and run right away with no problems.
WordPress hosting often has many features related to WordPRess such as, custom-designed WordPress themes, drag-and-drop builder and specific tools. In particular, the server is optimized to run WordPress, the installation and operation of WordPress will be much more efficient on a WordPress hosting.
Advantage:
Low cost (usually it will be the same price as shared hosting)
Easy to use for beginners
One click install WordPress
Good performance for WordPress site
The technical support team is trained to handle WordPress related issues
Pre-installed WordPress plugins and themes
Defect:
Recommended for WordPress sites (can be a problem if you host a variety of websites other than WordPress)
5. Dedicated Server
Dedicated server (or dedicated hosting) is a physical server of your own, all resources on that server are dedicated to you. Therefore, a dedicated server gives you full control over the server, completely flexible to use. You can configure the server to your liking, choose the operating system and software to use, and install a dedicated hosting environment, specifically for your needs.
In fact, a dedicated server is just as powerful as a private server you buy outside, especially backed by professional support from the web host.
Advantage:
Full control over server configuration
Trustworthy (You do not share any resources with anyone)
Root access
High security
Defect:
High price
Need technical knowledge and experience in server management.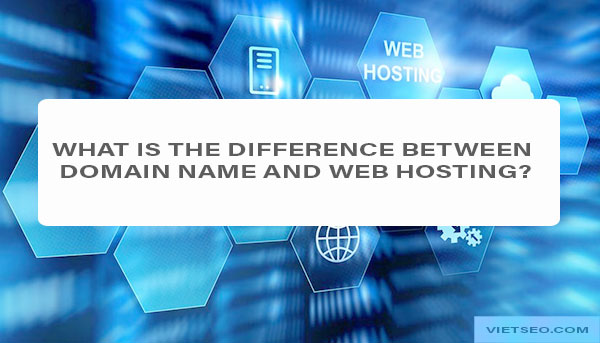 III. What is the difference between domain name and web hosting?
Before signing up for a web hosting service, you also need to purchase a domain name. So what is the difference? Web hosting provides a place to host your site, the domain name is the address of your site – for example: hostinger.vn. When users want to visit a website, they type the domain name in the address bar of the browser, and the hosting server will transfer the data to the broswer.
Most cheap hosting requires you to buy your own domain name before using web hosting, except for free hosting with secondary domain support, or Premium Hosting with a free domain name. If you already own the domain name, you can transfer it to your current hosting provider. You need to pay an annual domain name maintenance fee to keep ownership of the domain name.
To see if your domain name is registered, you can use our free domain checker service.
In short, what is Web Hosting?
Web hosting is the service you need to store website data and publish your website online. Having a website will help reach millions of people globally, opening up great opportunities for you to do business.
A good web host can ensure your content is always present on the internet, ensure visitor satisfaction, and attract more users to your website.
Now, you know everything about hosting and you are ready for the new website building journey!
Web QR