What is SEO standard web design? Criteria for standard SEO website design
You've probably heard: "SEO standard website design" can optimize user experience and help you stand at the top of the search results. It's true! When the website is designed with SEO standards, it will bring many benefits:
More friendly to the Google search engine, making your website Rank Top more easily. Page error rate is reduced to the lowest by optimizing many SEO techniques for fast page speed. There are many opportunities to reach customers, thereby increasing the conversion rate on the web due to SEO optimization.
Standard SEO web design also helps you save a lot of advertising costs on Google and other channels. If you want to design an SEO standard website that has everything Google and users search for, then follow this SEO standard web design article. Or you can watch the video Checklist for standard SEO website design from A-Z here.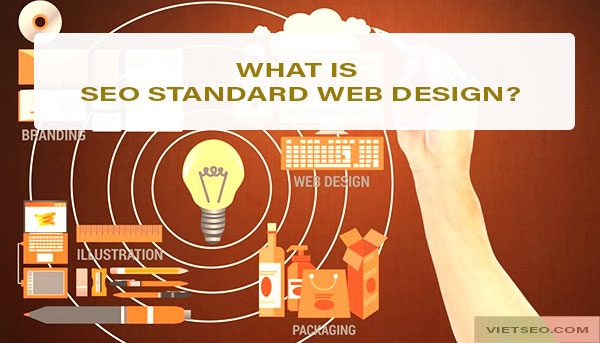 What is SEO standard web design?
SEO standard web design is a website designed with configuration and features that allow search engines such as Google, Yahoo, Bing... to easily crawl and understand the entire website.
So how to know if the website is easy or difficult to configure for Google Bot Crawl? Based on the accumulated experience when implementing professional SEO services at GTV with many different website SEO prices. I understand how a website can best support SEO. Let's find out the outstanding criteria to be able to check if the website has SEO standards or not!
Benefits when designing a website with SEO standards?
What most CEOs, small business owners, or new webmasters can't understand is why you need an SEO-friendly website, how to do a professional SEO web test, and why the effort should be put in place. Your site is more search engine friendly.
Today I will answer everyone's question about the benefits that SEO standard web design brings to businesses.
1. Increase Organic Traffic to the website
As expected, a standard SEO and professional website will help you get more Organic Traffic from search engines. Because, it is likely to rank higher in Google results page (SERPS).
If you understand that the majority of users using search engines tend to choose 1 of the first 5 results, you will understand the importance of SEO.
2. Website is more user-friendly
Professional website SEO is not only for search engines but it is also good for users. Applying SEO principles to your website will make it easier to use professionally and this enhances the user experience.
3. Standard SEO web design increases brand reputation and saves costs
Users are more likely to trust websites (businesses) that appear first on Google, Bing or Yahoo search results pages. This is good for both brand awareness and reputation.
A standard SEO website will drive targeted traffic 24/7 without having to spend money on PPC or other forms of Online Marketing. As a result, it can save a lot of money, bring great benefits and longer lasting.
4. Standard SEO Web helps you understand what your customers want
SEO drives quality traffic by analyzing user behavior. Eg:
How do they get to your site?
What do they click on?
How did they leave?
What do they like?
....
This is a great way to understand what your customers want and tailor your website or product to their needs.
5. Optimizing the website for SEO standards on mobile devices
A website that is mobile-friendly and ranks well on mobile search will attract more customers. Since then it has a higher traffic than other websites.
The majority of users use their mobile phones to search for product information on the go. It is important that you are at the top of the search results list, otherwise you will lose many customers, especially those searching for local products or services.
Criteria for standard SEO website design
Many people think that SEO and website design have nothing to do with each other. But in fact, website design can affect SEO and vice versa:
Website design can erase or damage your SEO: For example, when some companies launch a brand new website – Or rebrand to a new domain name – and see their SEO progress disappear in just a few days. night because they forgot to set up 301 redirects. 301 redirects tell the search engines where the new site was founded.
SEO can affect your website design: When you consider SEO best practices related to website design, page speed optimization, site architecture, you often see these factors affect the way you design your website. If you ignore SEO, you will have a hard time getting where you want to be.
SEO and website design are related! So how are they related?
First, the goal of website design and SEO is both to provide a great user experience. While website design focuses on the aesthetic components of a website, SEO will focus more on the aspect that helps it rank well on search engines.
And both aim for the same end: A website that gives visitors what they want and helps your business succeed. It's smarter to combine SEO and website design together because you can build a foundation for your SEO strategy to be most effective. When you take advantage of SEO in website design, you will save time, money and effort to get your website to rank high on Google faster.
You probably already understand how having an SEO-friendly website has a big impact on SEO. Now I will analyze some standards to optimize SEO for your website!
1. Code
As Google gets smarter and smarter, SEOs also need to constantly update to optimize SEO that is friendly to both Google and users. One of the ways is to optimize the Code.
The content of the new code is the deciding factor for your SEO success, not the code formula. Google will read your Source Code content to know what your site is about. SEOers also don't panic because what I'm talking about is related to code. Basically, you need to check the Source Code for SEO optimization in the following parts:
Title Tag
Title Tag is the most important part of any web page. If you use "Control+U" on any page, you will see the Source Code of the Title Tag.
Meta Description
Meta Description is an indispensable part of any website. The Source Code of the Meta Description will look like this:
H1 Heading Tag
The content always needs a paragraph title, the Source Code of the paragraph title has the following template:
Internal Link and Anchor Text
When you want to optimize SEO for your content, you must add Internal Links and Anchor Text to the article to connect the content, increase the credibility of the website with Google. The code of Internal Link and Anchor Text will have a pattern like this:
I've outlined for you a few code types of important sections in an article. You can refer to some other Source Code in Neilpatel's article on How to use Website Source Code to optimize SEO.
2. Unique titles and descriptions for all pages
Each of your web pages (including the homepage) should have a unique title and description. Titles contain about 60 – 65 characters, Meta Descriptions are usually around 150 characters. Titles and descriptions are two things that accurately describe the page content without keyword stuffing.
3. Must-have features in CMS
There are 6 essential features required in a CMS for SEO standard web design:
There are blog categories and parent categories
Optimizing schema
Blog has a table of content function
Allow to choose 301 or 302 redirect
Right to set no-index, no-follow
Right to choose Canonical card
4. Canonical card
Optimizing the Canonical tag will help your website avoid being judged by Google as duplicate content because that URL has a different copy.
Canonical tag requirements:
Always default to Canonical
The www versions; non-www or change .html or .html must be redirected to only one version
All URLs can access http and https versions
Check the Duplicate Content creation parameter URLs.
5. Navigation
Site navigation is important in helping visitors quickly find the content they want. This can also help search engines understand what webmasters consider important. Although Google search results are provided at the page level, Google also wants to know what role the page plays in the larger picture of the website.
All websites have a home page or "root" page, which is usually the most visited page on the site and the starting point for navigation for many visitors. Unless your site has only a few pages, you should consider how visitors will go from the general page (your original page) to the page containing more specific content.
Do you have enough pages about the specific topic area to be able to create description pages for these related pages (e.g. root page -> related topic list -> specific topic)? Do you have hundreds of different products that need to be categorized by multiple category pages and subcategories?
6. Clear URLs – URLs
Permanent Links (website URLs) are formatted all lowercase and separated by dashes.
Bonus tips: Use more optimization techniques to help drive traffic to the web:
7. Fast loading speed
Whether users or search engines don't want websites to load slowly. In contrast, sites that load fast are often very SEO friendly, which means they are better at ranking by algorithms than slower loading sites. In particular, they will generate more user interactions (sales, newsletter signups, contact form referrals, …).
8. Unique Content
The content on your site cannot be found anywhere else. All pages should have unique and useful content, which means that a website with content copied from other websites will not be a standard Google SEO website.
And it certainly won't rank high on Google's search results.
9. Contains standard SEO images
It's true that search engines love text-rich articles. However you also need to have images for your pages because people will love it. Images, as one of the criteria of a standard SEO article, make your content more interesting and readable.
One thing you need to remember is to optimize the image size. Tools like Smush.it allow you to resize images without losing their quality. You should also name and use alt text for the image.
10. Clear and consistent page layout
For SEO standard web design, website layout usually has the following elements:
Header
Breadcrumbs Menu
Page Title (only 1 Title per page)
The text is well formatted, they are separated into short paragraphs with subheadings
Author information
Footer
Of course there are many different characteristics to help you know what SEO standard web design is. However, the above 6 factors are considered the most important.
11. Generate XML Sitemap and use robots.txt . file
XML Sitemap helps Google understand the structure of a website as it crawls. As you pass more data to Google, you can also identify the pages that are most important and valuable to you to prioritize them.
If you have some pages that you don't want Google to submit you can use the robots.txt file, which will tell Google bots which pages don't need to be indexed. Remember to update your robots.txt file again if you decide to restructure your site.
12. SEO standard web design according to UX-UI
Surely, the phrase UX - UI is no longer strange to us. You've heard people say, UX - UI design is a job that makes customers happy when performing operations on the website. However what is it? How are you?
Find out with me now!
UX design is tied to the user's perception of a product, not necessarily technology. UX design in SEO standard web design – Is a continuation of this term because of the first appearance of UX to serve people's lives.
UI design is the concept of user interface design. UI designs will focus on how the product appears to people such as:
Like and share buttons should be on the left or right side of the post.
What color should the call-to-action icon on the Landing Page be, above or below.
The Navigation button should choose two tiles, two or three lines, dashes or vertical lines, etc.
In particular, if you want a standard SEO website, UX - UI is an indispensable technique. Simply because:
UX/UI will affect user behavior
When a website has a standard UI / UX interface, people will be quite comfortable in the experience, good mood makes them make faster decisions when they see satisfactory products.
For example, in the construction of the GTV SEO website interface, if the gtvseo.com blog does not really have a good and user-friendly interface, it is very difficult to conquer the fastidious guests in the SEO field.
Because from the way SEO standard website design, customer care, they will evaluate whether GTV SEO's services are thoughtful, dedicated or not, greatly affecting their decision making.
Affect Google Ranking
Google cannot accurately assess the appearance of a website, but Google can collect information from users to make judgments about whether the website is really good for users or not. A website with a bad experience, users often exit as soon as they enter.
Another issue that you need to pay attention to is the Responsive website feature, which helps the website display well on many different devices. Google is making big changes to target mobile users and Responsive is also a factor that Google is very interested in, it even has a separate notification section in the webmaster tool - Webmaster Tool.
13. Check Your Orphan Pages
As crawlers follow links to crawl your site, you need to check to see if all of your pages are properly tied to your site structure.
Thanks to OnCrawl's Crossed Analysis you can discover your Orphan Pages and see active and inactive pages to optimize your overall structure.
OnCrawl is the right tool to study all web SEO factors present on your website thanks to Semantic Crawler and its duplicate content detection capabilities.
14. Other Technical Factors
Response Code
Have a 4xx page (do not automatically redirect to homepage or any other page)
If it's a 4xx code, it's a 4xx code, not something else.
Mobile
Some common problems on the mobile version:
Mobile-friendly
Mobile site with high bounce rate
JavaScript or CSS is blocked
Improper use of rel="alternate" & rel="canonical" tags
The speed of the mobile version is slow
Pop up
Limit pop-ups and banners too much
If there is a pop-up, the x must be bigger
Pop-ups should not cover the entire screen from the first 5 seconds
Conclusion
An SEO-friendly website has certain features and characteristics that help search engines understand what a website is all about. This increases the chances of your website achieving a better ranking in the SERPS.
The most important advantage of standard SEO web design is that you will get more Organic Traffic from search engines.
Hopefully through this article, you have a better understanding of what SEO standard web design is. The above article has provided you with general information about what is SEO standard web as well as some ways to check professional SEO standard web.
Hope they will be useful to you in hiring a quality website.
Web QR