Top 5 best free web design software
Designing a website seems to be very complicated because it is a collection of many lines of code and specialized tools.
However, with the development of technology today, building a website for yourself is no longer too complicated with web design software and effective support tools. In this article, we will introduce to you the top 5 best free web design software, let's find out now!
I. What is web design?
Website design is simply the work of creating a website for a business, company or organization. Customers will be able to find information about products and services of the business there in the most complete and convenient way.
Web design includes many different skills such as HTML coding, web interface design, web programming, search engine optimization.
Individuals will often work in groups with each assistant avoiding a different stage, also some individuals may do all the stages, but this will create less professionalism. Because usually people who specialize in designers will have a higher aesthetic than those who specialize in coding. And people who are always developing code will have more time to focus on upgrading technology.
There are two main methods for website design: static Web design and dynamic Web design.
Static design is the use of HTML, video, image, flash, audio, and CSS code snippets to create a website interface and save the filename with the extension: .htm or .html. In static web design, there are no database systems like MySQL or MSSQL.
Dynamic web design is a web that is provided with information by a database system, compared to a static web, a dynamic web has good data management capabilities, interoperability on the web system, and easy content updating. and has many more management utility features for businesses.
If you have the ability to self-taught website design, that's great. But if you don't have much time to learn, or urgently need a professional website to use, you can find a professional web design service at: https://vietseo.com/en/web-design/
II. Why web design?
We already know about web design and the main methods of web design. So, what are the benefits of setting up a website? The sharing from the vietseo.com team below will help you answer this question!
Website design helps to improve the efficiency of sales, marketing, and introduction of new products. This is also a place to connect people with needs and sellers, creating a large online business system.
Web design helps promote the exchange of product information to consumers. It is the least expensive channel to promote personal brand image. The business will be more efficient and easy to provide information so that customers can access and search for homepage information anywhere.
The website also brings effective commercial transactions, increasing sales. Besides, it also increases the ability to introduce products to customers.
A website will provide us with the number of searches and the number of views of our customers to create trust for new visitors to our website. The cheap and well-optimized website design is enough for you to get the desired number of customers.
Businesses that offer web design services have skyrocketed and competition has made the cost of each finished website come down amazingly fast recently. Owning a professionally designed website has never been so easy and low cost.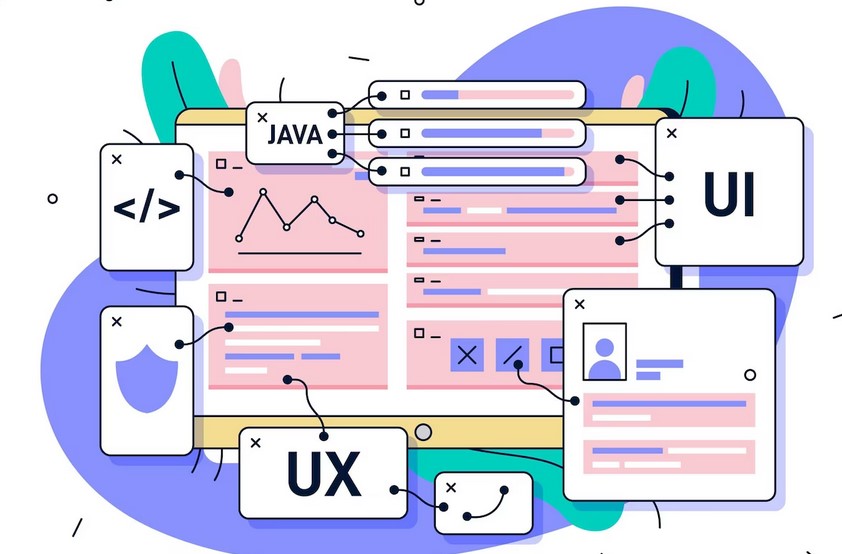 III. Top 5 best free web design software
Today, with the strong development of the internet, the exchange of information becomes easier through websites.
Many people are afraid of the complicated understanding of software design and website design, but with today's developing technology, the software and tools that have been born have made web design simpler and faster than ever. time out.
Let's refer to the top 5 best free web design software that we have compiled below!
1. WordPress – The most popular web design platform today
WordPress is a globally used web design software. However, this tool is somewhat difficult to use and complex, especially in object division and interface management by key.
WordPress is often used to create static websites due to plugin limitations. That is, a personal website such as a news website, blog, magazine, business introduction, etc.
Up to now, WordPress can also serve websites with high complexity such as car rental, hotel booking, real estate, etc. with small and medium scale. Besides, WordPress software is also suitable for all subjects from basic to advanced, serving many different purposes.
WordPress is used by many web sites around the world to build their websites. According to some statistics, up to 25% of major websites in the world use WordPress source code. That could show how reliable and popular it is with users.
2. CoffeeCup Free HTML Editor – Professional web design software
The essence of CoffeeCup Free HTML Editor is a hand-coded website builder tool that edits HTML through an editor. This web design software does not have a CMS content management system capable of code completion and content correction.
Compared with other software, CoffeeCup Free HTML Editor has the advantage that it can provide many available website templates, which are fully compatible with today's popular browsers such as Google Chrome, IE, Mozilla Firefox. However, you must use the premium version if you want to use its advanced features.
This is a good tool for website designers. However, these designers have not really appreciated it yet. Regardless, it's still a tool that's absolutely right for you if you're a beginner or a small business owner, selling personally.
3. Wix – Easy Website Making Platform
Wix is one of the best rated free web design software available on the computer today. Wix gives users the best experience with outstanding features to create a website.
Wix owns many plus points by operating on the web, there are many beautiful templates available, suitable for user needs. Using wix is also very simple, just log in and choose the template that suits your needs. Then use the editor provided on the web to edit the categories on that template easily.
You can choose the screen size on wix to design a website with an interface that runs well on all platforms. Besides, if you have higher usage needs such as News, live chat, etc., you can use Wix's App Market to experience.
4. Joomla – Popular CMS source code in web design
Joomla has the strong point of owning a huge template store for users to choose from. Therefore, it receives great trust from customers even though it is not as popular as wordpress. The customers that this web design software is aimed at are general users, no need for complexity.
Operating on the web and operating as a client are the two main forms of Joomla's activities. Web activity is common, your resources will be stored online.
As for the client operation, it is an activity that helps you save the resource to your computer and from there you can edit it when you want. Joomla is a free web design software that is praised by users with a drag-and-drop interface, suitable for basic computer users.
5. SiteSpinner – Free Website Programming Tool
SiteSpinner is a tool that provides the most basic and simple web design solution possible. Users can move all the necessary objects that the program offers by dragging the mouse without having to have in-depth HTML knowledge. The program has built-in image editing tools, so you don't need other third-party software.
SiteSpinner software allows you to customize page details such as title, link colors and background. Users can create shapes such as circles, rectangles, polygons, etc. and resize them easily. The built-in FTP engine allows web hosting and automatic uploading of user images.
Above are the top 5 best free web design software today that we have compiled. These software are provided completely free of charge with beautiful, professional web interfaces, programs that are easy to use and edit, bringing convenience to consumers. If you want to experience more functions, you will have to pay. Don't forget to visit us often to update more useful information!
Web QR