How to Create Free Let's Encrypt SSL on CyberPanel
What is CyberPanel? Instructions for installing and configuring CyberPanel
Command Line and CyberPanel are both useful tools to help you manage your hosting. For those who are new to using Command Line, CyberPanel is a better choice because it is very easy to use. So what is CyberPanel, what are the outstanding features and how is it configured? Please read with Viet SEO to learn more details!
What is CyberPanel?
CyberPanel is a hosting control that integrates with OpenLiteSpeed - an open source web server of LiteSpeed Web Server EnterPrise. Cyber Panel helps users experience a hosting control that is fast in terms of speed, security and reliability. This is a great hosting management tool that you should not ignore. Now let's see the outstanding features of Cyber Panel!
Outstanding Features of CyberPanel
Support Vietnamese language and managed by Viet SEO
Features a modern, intuitive and easy-to-use interface for beginners.
There are easy-to-use options like OpenLiteSpeed or LiteSpeed Enterprise.
LSCache support features.
MariaDB features with versions like 10.0, 10.1, 10.2, 10.3, 10.4.
Free auto-renew upon expiration (SSL - Let's Encrypt).
Built-in Lightweight DNS Server, Email Server (Rainloop Webmail) with Command Line, FirewallD interface.
Install compatible with WordPress, Drupal, Magento with just one click.
There is Git support (like Github or Gitlab).
Some other features.
Configure CyberPanel
To install CyberPanel, your computer needs to meet the following minimum configuration:
Centos 7.x, Centos 8.x, Ubuntu 18.04, Ubuntu 20.04 Python 3.x
Hard drive with at least 10GB of memory
Ram has a minimum capacity of 1GB
How to Create Free Let's Encrypt SSL on CyberPanel
The first note is that you need to point the domain's IP to the server before creating SSL (running https).
CyberPanel hosting management software uses free SSL from Let's Encrypt. This SSL certificate will be automatically renewed for your website.
There are 2 ways to add ssl to the website.
Method 1: Add SSL when you add a website to CyberPanel
Important: You need to point the domain's IP to the server IP before creating it. If you haven't pointed the domain IP, you won't be able to register ssl from Let's Encrypt. But your website hosting is still initialized.
Method 2: Add SSL to the website that has created CyberPanel hosting
On CyberPanel's admin menu, click on SSL -> Manage SSL.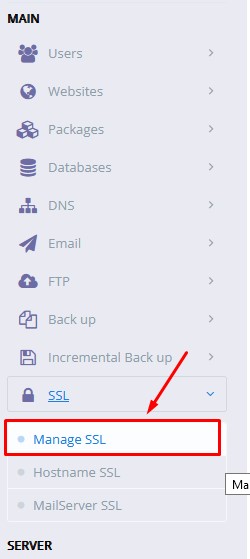 Select the domain name to install SSL.

Then you select "Issue SSL" to proceed with SSL installation. Wait about 2 minutes for the installation to complete.
Errors when you create SSL on CyberPanel.
- You have not pointed the domain IP to the server IP or because of a DNS error in the domain name.
- The domain name is on the Let's Encrypt (spam) blacklist.
- CyberPanel error (error occurs from within the CyberPanel system, rare).
Conclude
Above is a detailed article that introduces you to read useful information about what is CyberPanel? Instructions for installing and configuring CyberPanel. To install Cyber Panel you need a computer device that meets the minimum configuration requirements. Readers can also refer to how to install Cyber Panel free version to install and use.
If you want to use more than one domain name, you need to pay for registration. Therefore, when having difficulty in the installation process and finding a genuine Cyber Panel supplier, please contact Viet SEO for support. Thank you readers for watching!
Web QR