How to Create Free Let's Encrypt SSL on CyberPanel
The first note is that you need to point the domain's IP to the server before creating SSL (running https).
CyberPanel hosting management software uses free SSL from Let's Encrypt. This SSL certificate will be automatically renewed for your website.
There are 2 ways to add ssl to the website.
Method 1: Add SSL when you add a website to CyberPanel
Important: You need to point the domain's IP to the server IP before creating it. If you haven't pointed the domain IP, you won't be able to register ssl from Let's Encrypt. But your website hosting is still initialized.
Method 2: Add SSL to the website that has created CyberPanel hosting
On CyberPanel's admin menu, click on SSL -> Manage SSL.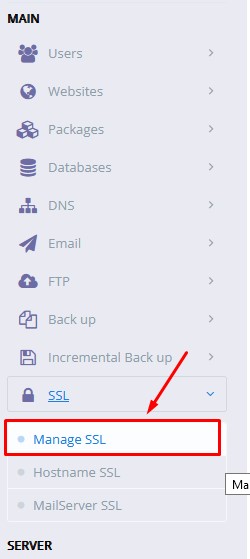 Select the domain name to install SSL.

Then you select "Issue SSL" to proceed with SSL installation. Wait about 2 minutes for the installation to complete.
* Errors when you create SSL on CyberPanel.
- You have not pointed the domain IP to the server IP or because of a DNS error in the domain name.
- The domain name is on the Let's Encrypt (spam) blacklist.
- CyberPanel error (error occurs from within the CyberPanel system, rare)
Web QR